October 13th, 2012

RaVae Erickson
So here is Abu playing this fall!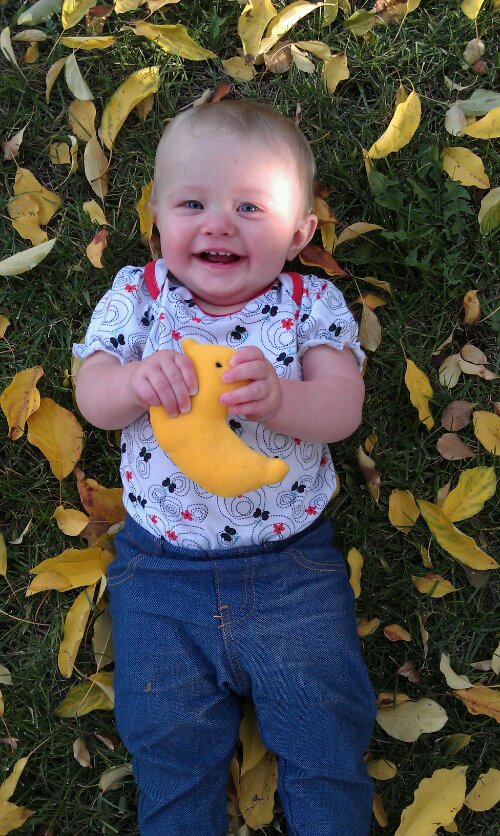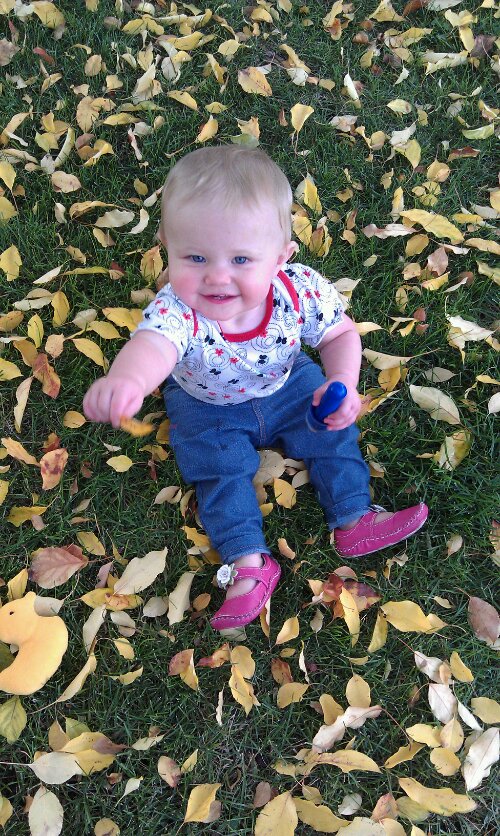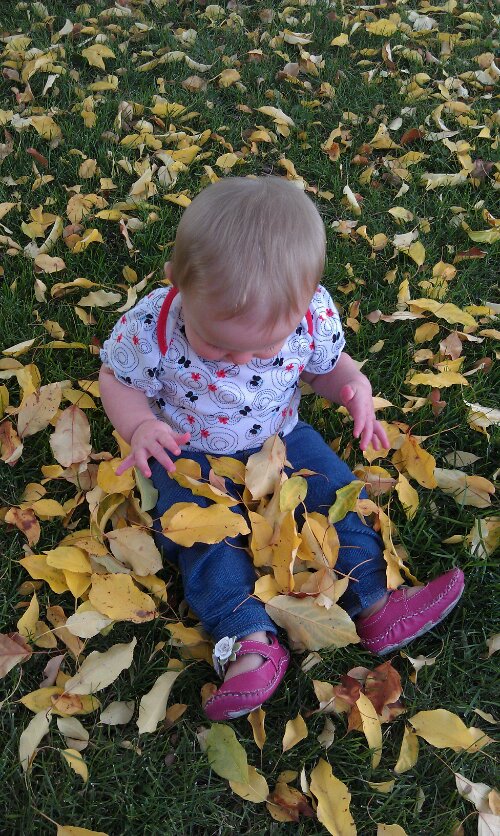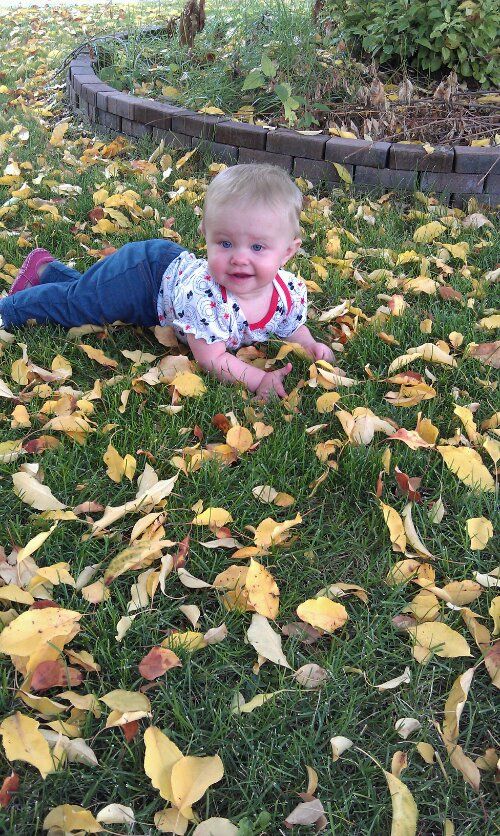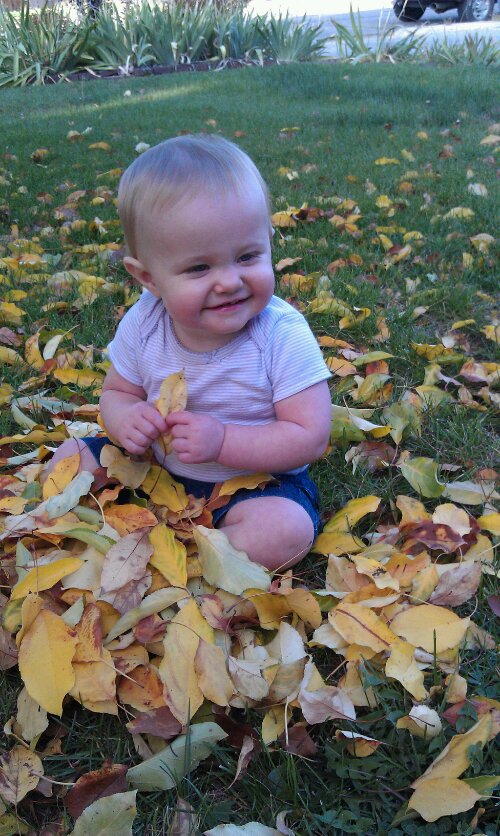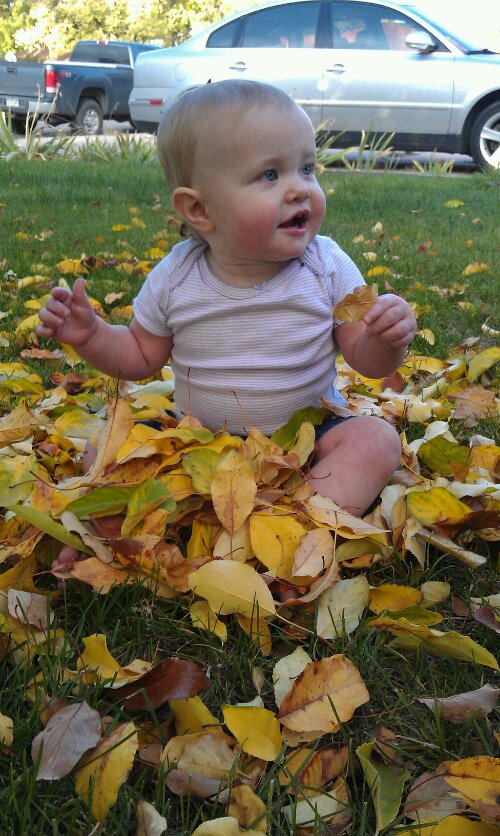 More to come!

October 9th, 2012

RaVae Erickson
I admit it, I am a perpetual virtual stalker! Google keeps track of it for me, and its really rather sad…according to Google my habits are as follows
1. I'm a Lazy Mom. This has GOT to be the BEST blog in the WORLD! She is funny (ok, I only think she is funny sometimes, other times it way too cheesy to be funny), she has GREAT tips posted for raising kids and running a household and keeping it clean, and she has AWESOME super-EASY recipes! Seriously, what more could you ask for in a Blog?
2. The Pioneer Woman. She is funny, and she has great regular posters who are not herself, so you get more than one perspective in one place! Plus she also owns (or whatever) the Tasty Kitchen website where I have discovered quite a few awesome recipes!
3. AOL News….because everyone needs to know the news! Current Events People!
4. The Complete Guide to Imperfect Homemaking. I'm not sure how I stumbled upon this blog initially, but I LOVE it! Oh, I remember now, I found her blog through a pin on Pinterest! This one actually! I fell in love with the simplicity of it and have checked it at least 5 times a week since! Oh, and she loves FALL as much as I do!
5. The Year of Less. This one Google skips over, because I don't actually type in the web address, I just click on the link from the Blog listed in number 4! They are the same woman/family in Canada and I love their hearts for LESS stuff and MORE LOVE! This one was obviously found through her other blog. 🙂
6.  And then there is this MYSTERY blog! Hehehe!
7.  Jenny Simmons-Cupcakes! This blog rocks my socks off! She is such an amazing person, and i had the privilege of sharing coffee with her two years ago! She has a new album dropping in Feb and the first single is out now! A-Maze-ing! LOVE it!
8. Slave Free Earth. If you go to any of these websites or blogs, PLEASE chose this one! Please let the numbers permeate your heart and challenge you to DO something rather than paralyzing you into NON-action by the vastly HUGE challenge this is!
9. My Bank….I have to check those balances ya know!
Ok, I guess I'm not the stalker I thought I was…oh HAPPY DAY! 🙂
Oh, and sorry for being gone for so long! I hope to be back much more often now!

September 27th, 2012

RaVae Erickson
So, um, I LOVE S'mores! Its true! Anything S'mores and I'm sold!
A Shake from Randy's? Yep! 
A Dessert cake from Joe's Crab Shack? You Betchya!
A REAL S'more made over the stove inside my house in the dead of winter? Yes, I've done that too!
And I've tried all different kinds of s'mores as well, I've had the S'more made with Reeses Peanut Butter Cups and Snickers and Dark Chocolate, but my ultimate favorite is the original Hershey Chocolate and Graham Cracker S'more…SO, When I saw this idea for an EASIER S'more I decided I need to try it! Now I just need a campfire….

September 7th, 2012

RaVae Erickson
Father God,
Please be with our dear friends right now. You know their situation. You know their needs. Be with all three of them. Calm their fears and replace it with peace. Use this situation to grow them as a family, to grow them spiritually, to draw them closer to You than they have ever been. Don't let any one of them close off emotionally during or after this time. Rather, use this time to foster completely open communication between the three of them in a way that has never existed before.
Bless them through this.
Bring people in their new community around them right now to encourage them and comfort them.
………………………………………………………………………………………………………………………………………………………………………………………………………
Please speed up the process and let everything work together perfectly right now.

September 5th, 2012

RaVae Erickson
This was our kitchen at 12:45 yesterday: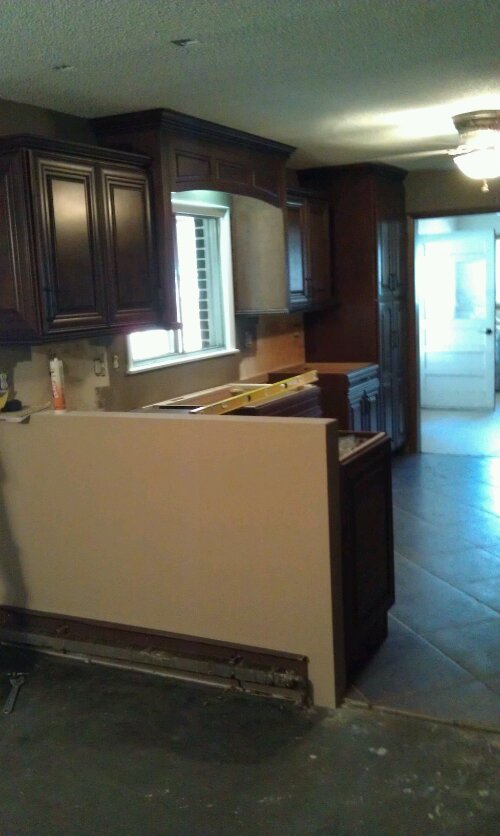 And this is our kitchen now: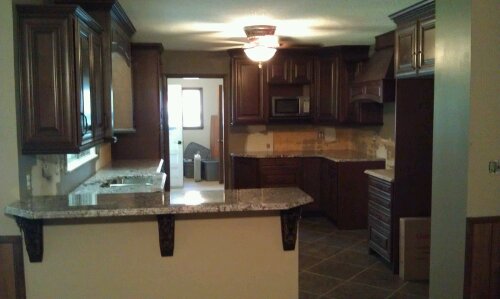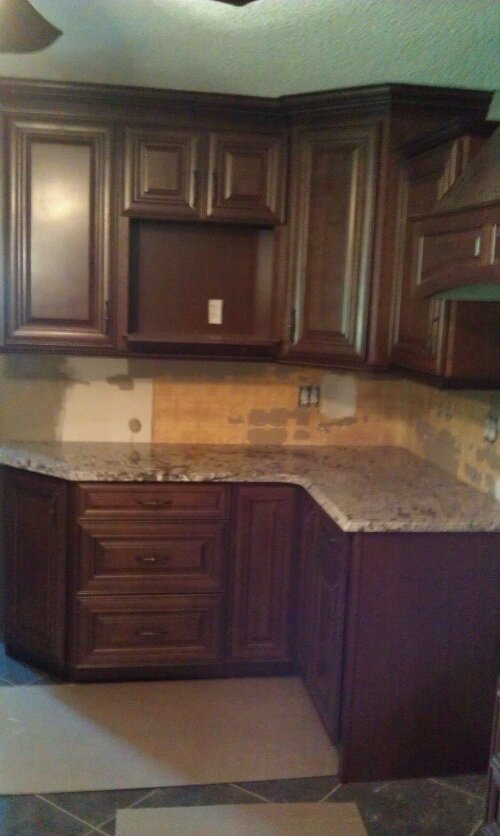 Look at this awesome Fissure in the Granite!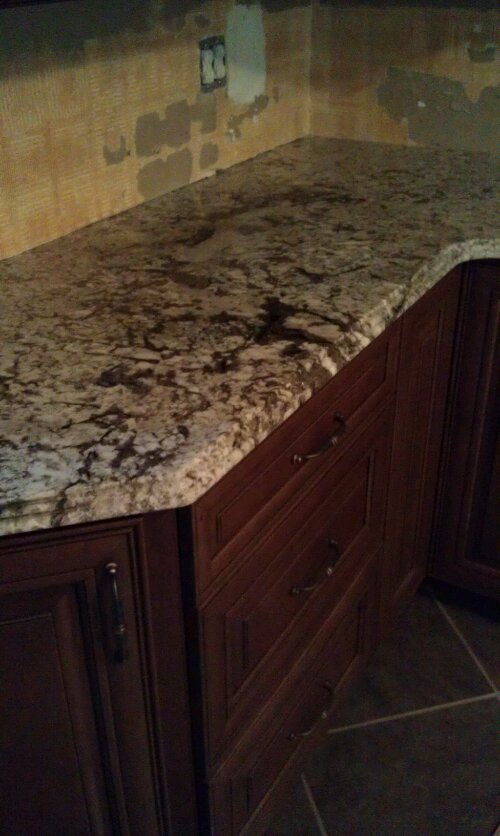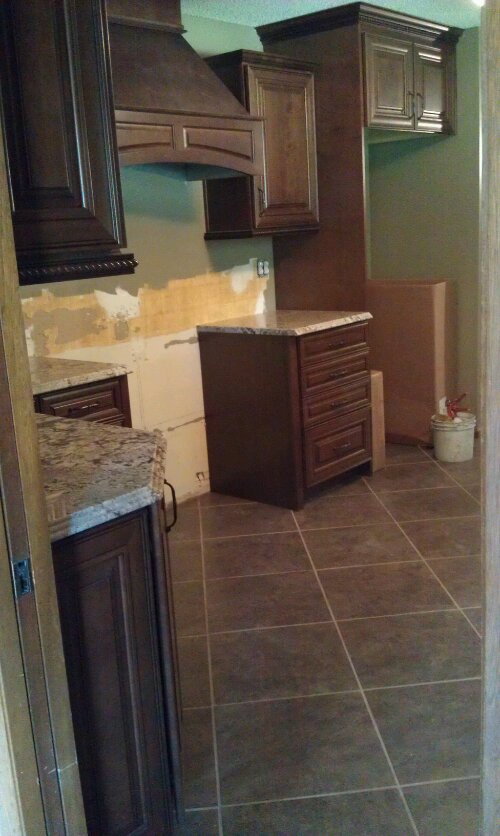 This little section to the left of the (currently imaginary) fridge is pretty too!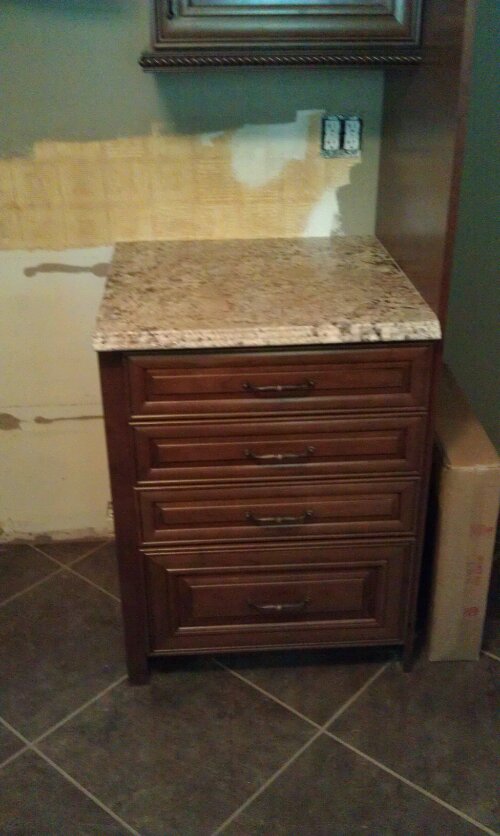 This is the BEST Hubbin in the WHOLE world! He is installing the Corbels under the bar top.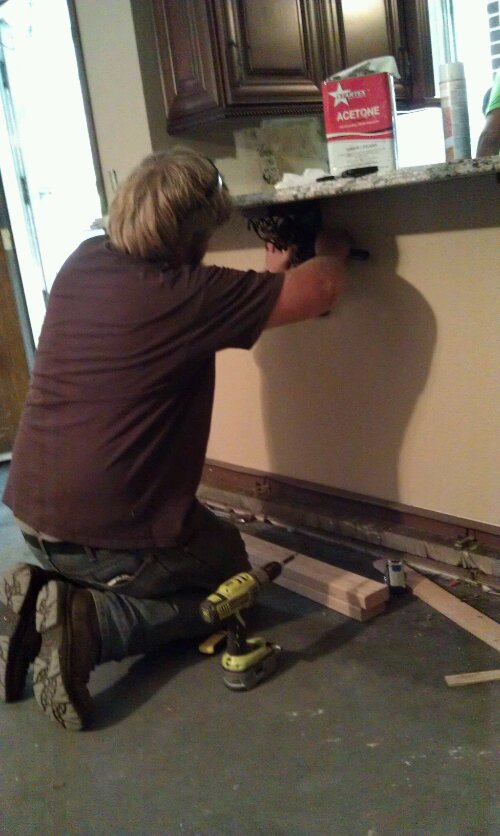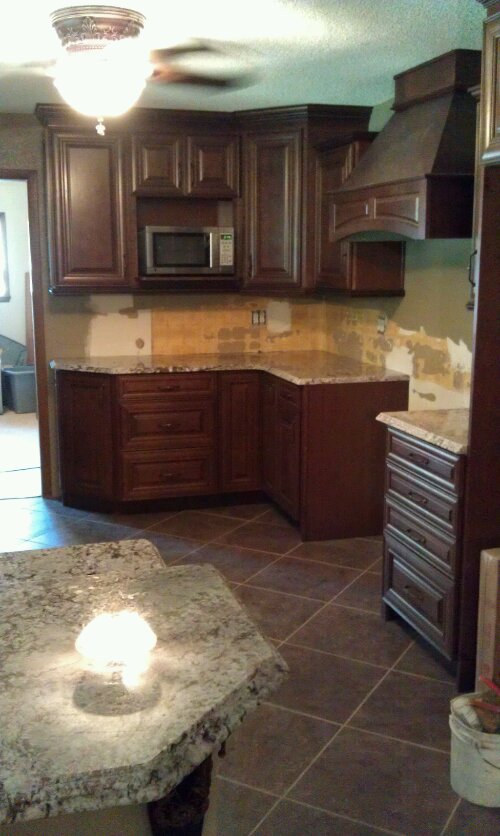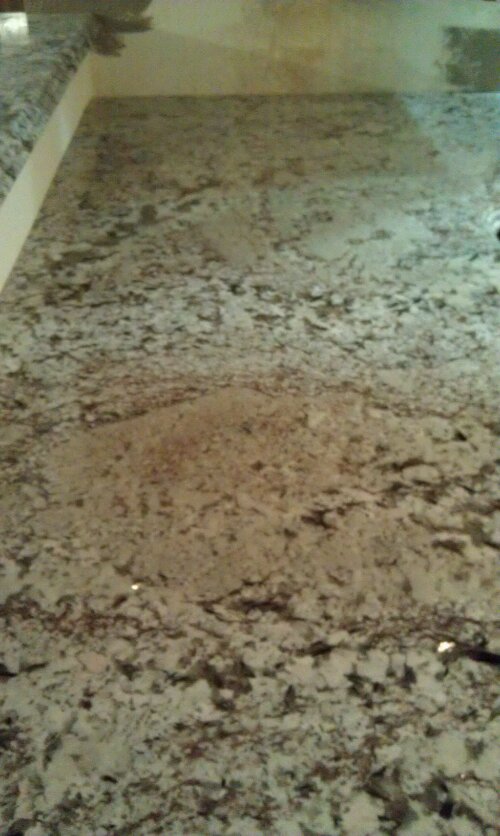 Look at the burnt orange coloring in it!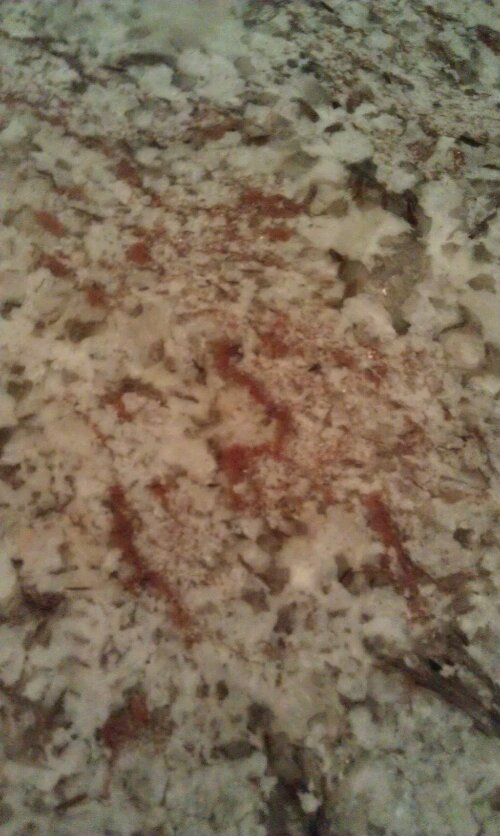 And the GORGEOUS sink area!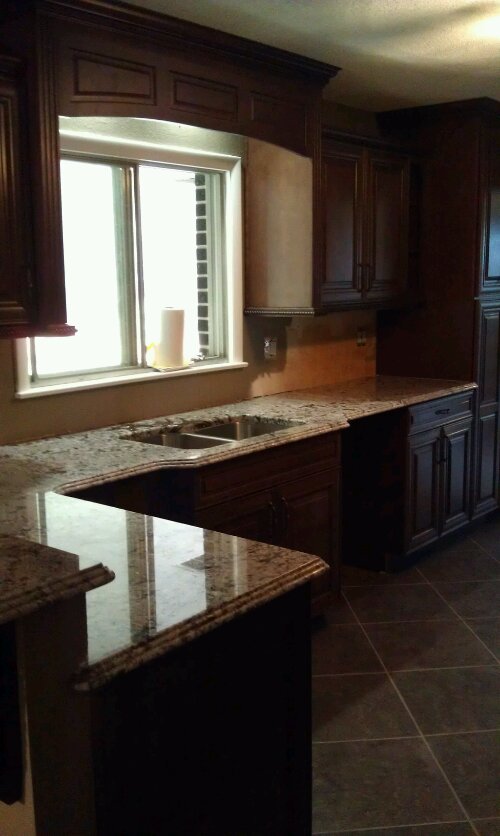 The fissure there is AMAZING too!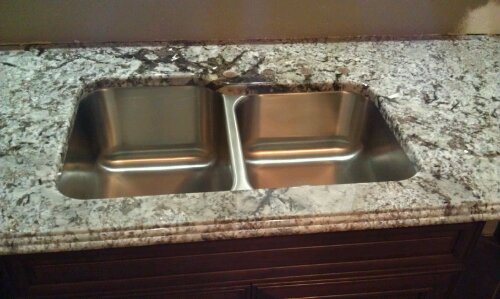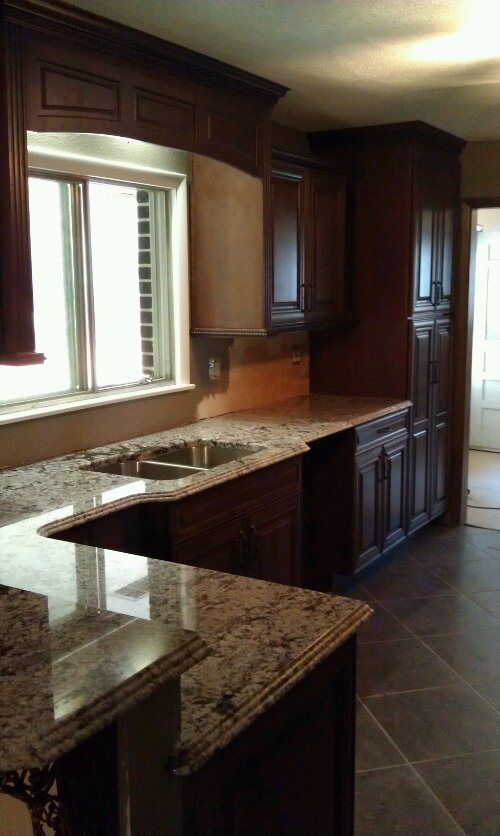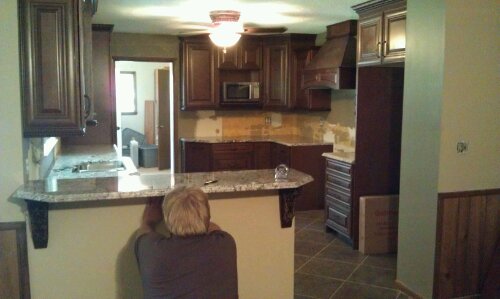 We are still waiting on the installer to come back and put the cutlery insert and the roll outs in. Other than that, we have a backsplash to install this weekend along with the faucet to finish out the kitchen and the bead board in the bathroom….

September 4th, 2012

RaVae Erickson
Grout! Yes, finally, but hey, at least its done now….and it looks awesome!
See?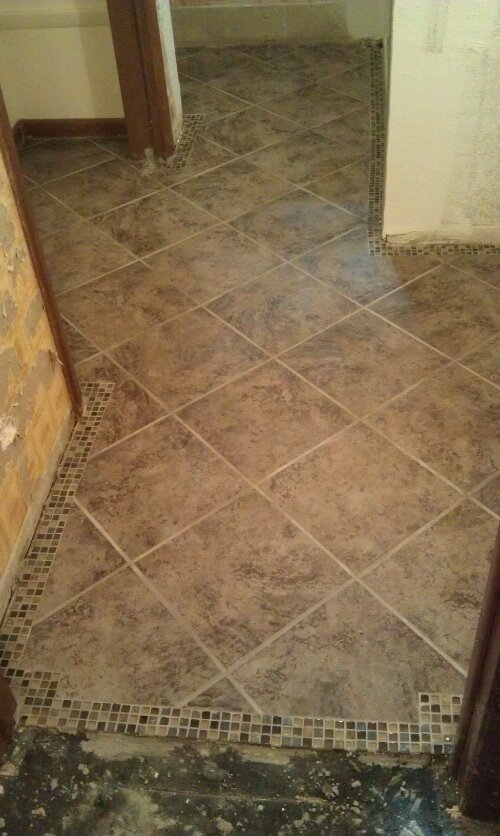 This is what we did on labor day…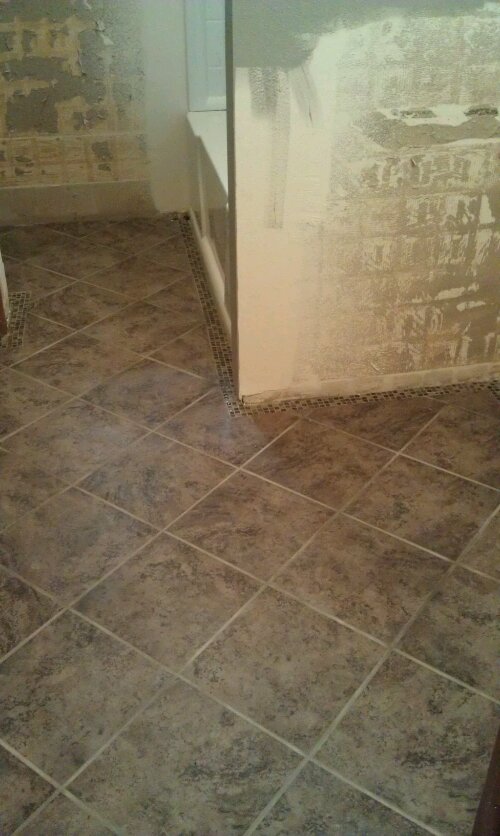 These are my Hubbin's FEET…ang the GROUT!!!!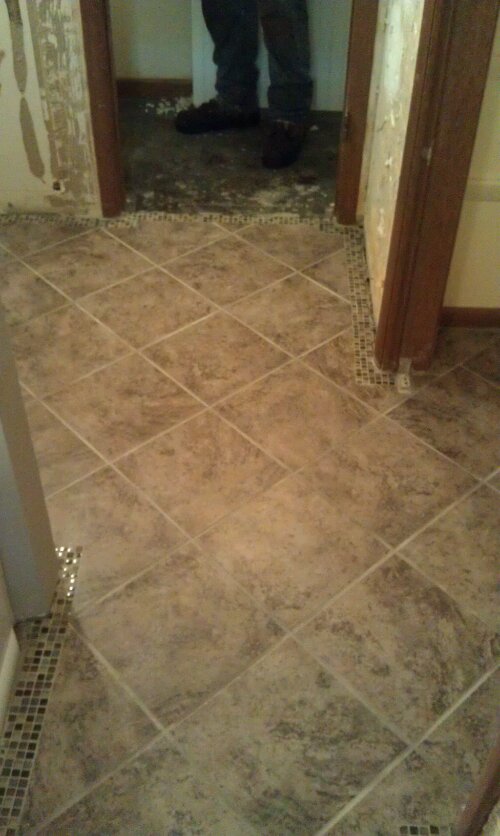 Look how pretty it is with the tub!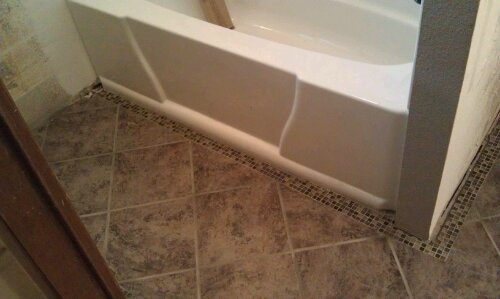 And where the vanity will go: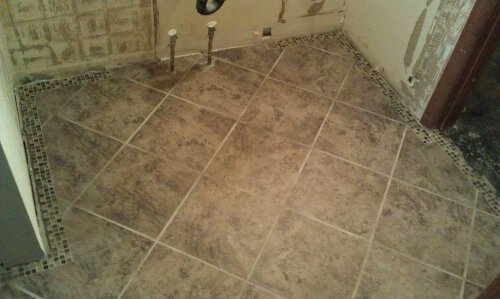 August 30th, 2012

RaVae Erickson
Baby Girl is TEN MONTHS old! How did this happen? Where did the time go? I don't know, but here is the report….
Walking: Yes! But only three steps at a time right now. I'm sure this will change of the next month, but right now, three steps is AWESOME!
Teeth: She has four teeth on the top and two on the bottom. They are perfectly aligned for chewing, and she LOVES to bite things (although she hasn't gotten in to biting people yet, PTL!).
Sleeping: She sleeps from 8:00ish to 6:45-7:15 every night. The exceptions to this are when she is teething pretty bad and then she just wakes up crying and needs some cuddles and some teething tablets and she is right back to sleep (usually only once a night when she is teething pretty bad).
Happy Baby: She is happy all the time, unless she is either tired or hungry. Although she did have an episode last week where she was both tired and overstimulated. We took a five minute break from all the action and she was fine. 🙂

August 30th, 2012

RaVae Erickson
I have had good intentions to write a blog for ages now (ok, its only been a week, but still!), and while I have come up with some stellar ideas, I have yet to write a blog, so here goes!
I decided to do this:


I hope we can do it with Hubbin's parents coming to visit for a few weeks, Hubbin's bday, and the Fritzler Corn Maize starting! Yikes!
I read THIS article about clutter and was inspired to declutter my home…now I have to actually get up off my BUTT and DO it! It's a good thing I am already planning time for this in my head, and contemplating which room to start in…
I have thought about revamping my workout routine (read "laziness level" since I don't workout right now) and have decided to tackle the MaxT3 challenge again.
I made a goal for August (to not eat any candy) and I have (so far, I guess there are one and a half days left) accomplished it with the one exception of when Hubbin bought me a candy bar before he knew I was doing this in August (hey, I couldn't hurt his feelings by not eating it!). :~)
My TWO (yikes, I'm not sure I can handle TWO!) goals for September are:
1) The eat your pantry challenge
2) Workout six days a week with at least three of those being the MaxT3 workouts. The other ones can be ANYTHING. :~)
We will see how it goes I guess! 🙂

August 27th, 2012

RaVae Erickson
My lovely Sister-in-law, Leen, invited me to go with her (and the ladies from her small group) to this really hip (bahahahaha, I'm trying to be cool now too!) little place in Loveland to drink a glass of wine and paint a pretty painting.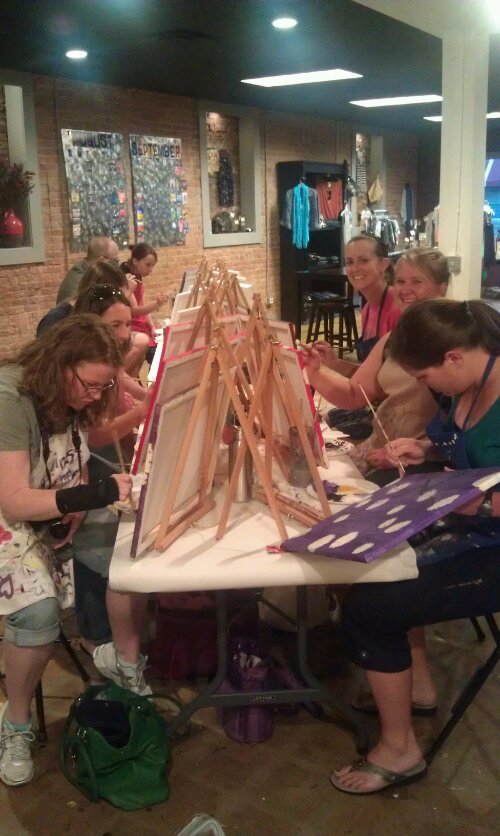 This is my Darling sister-in-law, Patti!!!!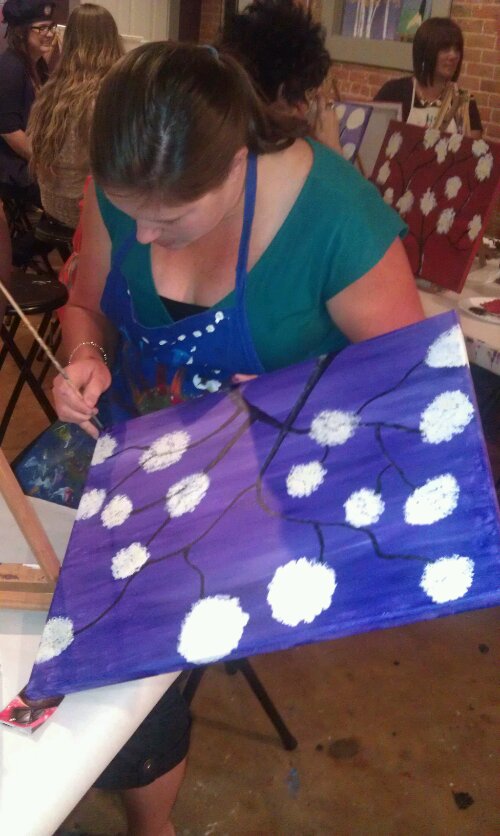 And THIS is MY painting!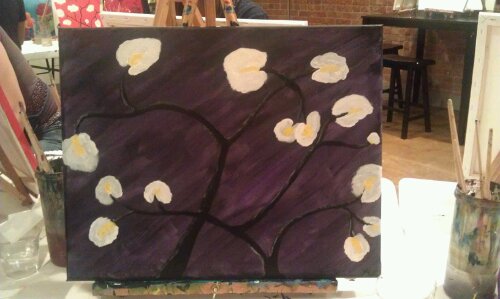 August 22nd, 2012

RaVae Erickson
Life is filled with moments. And I experienced one just the other day… Aug 20, 2012 to be exact!
My baby girl took her first steps!
That moment seems to be etched in my mind forever-the grin on her face and the smile in my heart…. Those first steps were priceless! She got SO excited that she had FINALLY done it all by herself that she couldn't walk anymore (not even with help!).