My Hubbin took me to Denver for a little getaway for my birthday and Valentine's Day this past weekend (ok, it was only Sunday night)! He chose the Hyatt Place for us to stay in since the rooms are not traditional hotel rooms.
We opened the door to a huge comfy couch with a great ottoman on wheels-so it can be used as an extra chair anywhere else in the room.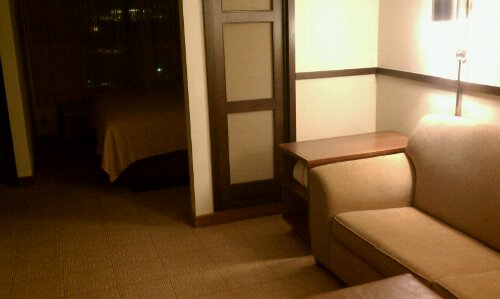 You can't see in the picture but on the left is a wet bar area and a desk with a reading light. It was all very classy.
Separating the "living room" from the "bedroom" is a sort of half wall.
Then the bed area: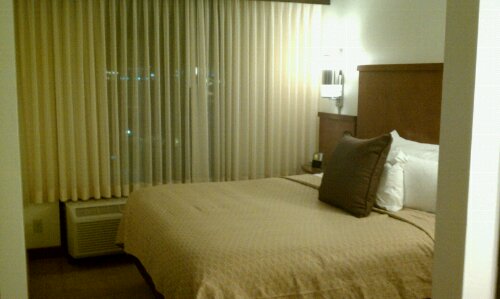 To the left of the bed is the vanity area and the closet (tiny, but who really uses those traditional huge hotel room closets anyway? We didn't even use the tiny one.) And then there was the bathroom. It is a simple set-up, but it was cramped due to the door swinging inward. We had to stand next to the toilet to open or close the door while in the bathroom.
With the exception of the bathroom, this hotel room was amazing. The TV was on a swivel, so you could watch it from either the couch or the bed without straining your neck at all. The colors flowed very well, and it was just a little bit different as far as hotel rooms go.